UNIVERSITY OF ZAGREB, FACULTY OF CIVIL ENGINEERING
Adress: Fra Andrije Kačića Miošića 10000 Zagreb
E-mail adress: ccee@grad.hr
Phone/Fax: +385 (0)1 4639 363



SEE YOU IN ZAGREB OR ON-LINE
1CroCEE will take place in Zagreb, capital of Croatia. Zagreb's history dates back to Roman times when the urban settlement of Andautonia existed at the location of the modern-day Ščitarjevo. In 1945, Zagreb was declared the capital of Croatia and today it is the cultural, scientific, economic, political and administrative centre of the Republic of Croatia, and a home to the Croatian Parliament, Government and President. It is located on the southern foothills of Medvednica Mountain and spreads along the banks of the Sava River. Culturally, it is a European city well worth visiting, with its numerous historical monuments, parks and medieval architecture. Everything is accessible by foot - from your hotel to the theatre, wandering around the old Upper Town or through the bustling streets of the more modern Lower Town, which has not lost an ounce of its charm despite the eternal march of time.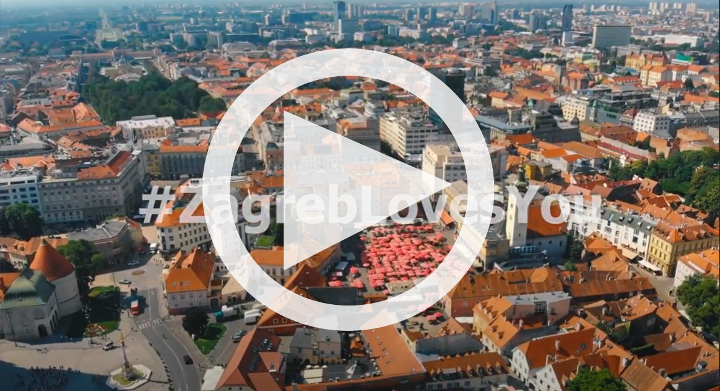 Source: www.tzgz.hr
The streets and monuments of Zagreb proudly testify to its hundreds of years of history. However, in March 2020, moderate ML5.5 earthquake struck Zagreb and generated impacts far exceeding expectations for an event of that size and revealed all its weaknesses. By organizing 1CroCEE, we hope to initiate, together with you, a new tradition in Croatia aiming to generate improved strategies and create future directions in earthquake engineering, in order to enhance earthquake resilience of our community.
CROATIA
Croatia is a land of rich cultural heritage, numerous museums, galleries and churches, many of which today, as zero category monuments, are included in a part of the UNESCO World Heritage List. In that magical place on the Mediterranean, even the shortest stroll becomes a journey down a staircase thousands of years old which take one through a history that is at the same time turbulent, exciting and glorious. With 8 national parks and 11 Parks of nature, Croatia is one of the ecologically best preserved parts of Europe. The mainland covers an area of 56 594 km2 and coastal waters cover a surface area of 31 479 km2 where Croatia's shoreline and its 1 244 islands enjoy the majority of the Adriatic coastline.
TRAVELLING TO ZAGREB
BY PLANE
Zagreb Airport (Franjo Tuđman Airport) is located only 20 kilometres from Zagreb. The airport is connected to the city of Zagreb by Airport Shuttle, regular bus lines and taxies. For more information about Franjo Tuđman Airport, please visit www.zagreb-airport.hr.
BY BUS
Zagreb is connected with a direct bus lines to all major centres in Europe. The Zagreb Bus Station info service provides information on bus departures from and arrivals to Zagreb Bus Station as well as the information on bus departures from and arrivals to other cities of Croatia and Europe. Ticket information and booking for international calls (0-24): +385 1 647 11 00. For more information, please visit the site of Zagreb Bus Station www.akz.hr.
BY CAR
The city of Zagreb is an easily reached destination by land. It has a good traffic infrastructure through which it is directly connected to other bigger cities of the Republic of Croatia: Rijeka, Zadar, Split and Dubrovnik and foreign European centres, such as Ljubljana, Vienna, Frankfurt and many others. To enter and drive in Croatia, you will require a green insurance card and a valid driving license. In Croatia, the toll is charged on motorways, semi-motorways and some bridges and tunnels.
ROAD ASSISTANCE
The phone number for Road Assistance is 1987. For more detailed information, foreign tourists can contact the Information Centre of the Croatian Automobile Club at ++385/1/464-0800, available 24 hours a day. Information concerning road conditions can be obtained in several languages on the second channel of the Croatian Radio or on the Radio Data System