LATEST NEWS
2022-03-22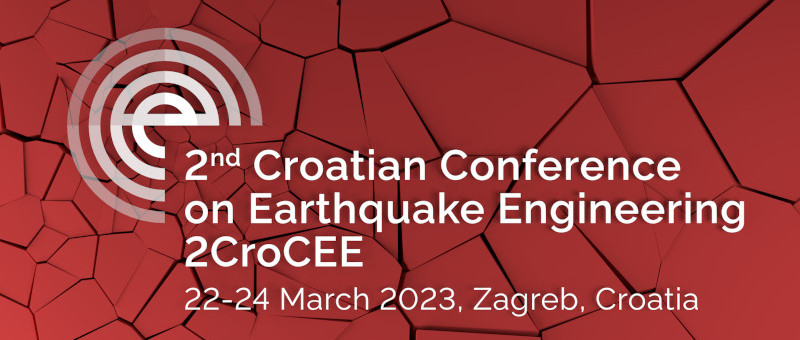 Dear colleagues,
Today we remember Zagreb 2020 earthquake with discomfort but with gratitude we celebrate the memory of the 1st Croatian Conference on Earthquake Engineering (1CroCEE) that started one year ago. Once more we would like to thank every author, speaker and participant without which 1CroCEE would not be so successful.
On that regard, please find all published papers now available in open access at the 1CroCEE website:
https://crocee.grad.hr/event/1/contributions/
It is also our pleasure to announce 2nd Croatian Conference on Earthquake Engineering - 2CroCEE that will take place 22nd to 24th March 2023 organised by the Faculty of Civil Engineering – University of Zagreb.
Call for papers and more details will follow soon by e-mail and on a dedicated website.
2021-03-31
1CroCEE conference has ended one week from now and in that period we have received great number of your praises for which we are very grateful. We would like to thank all authors and presenters, and especially our sponsors. Videos of presentations will be available soon on Whova application as well as final proceedings. By the end of next week all participants that have payed participation fee will receive participation certificate.
2021-03-21
Virtual conference will be accessible through official conference mobile app and web platform Whova.
If you are vieweing this from a PC:
If you are viewing this from a mobile device, download Whova app:
Please note that prior to gaining access to Whova you have to be a
registered attendee
. To register, visit
registration page
.
For feature details, visit
Whova
CONFERENCE ANNOUNCEMENT
The March 22, 2020 magnitude ML5.5 Zagreb earthquake painfully brought to light inadequate earthquake preparedness and resilience of Croatia's capital. This seismologically moderate event incurred major damage to the building stock of the administrative, cultural, scientific and economic centre of the country putting in question stability of the country with regard to seismic risk.
To commemorate these events and to forge a path to resilient future, the Faculty of Civil Engineering is gathering experts in Croatia, and organizing the 1st Croatian Conference on Earthquake Engineering (1CroCEE), on the first anniversary of the Zagreb earthquake. While the conference name does reflect the geographic origin of the earthquake, its message is aimed to be far reaching, unconstrained and inclusive. By bringing together national and international researchers, practitioners and public policy makers, the goal is to cover all representative topics and make decisive step forward for Zagreb, Croatia and earthquake resilience of Europe as a whole.
Join us to shake (help) Zagreb with knowledge and to reconstruct the past for resilient future (new tradition).
DOWNLOAD 1ST ANNOUNCEMENT (PDF)

COVID-19 CONSIDERATIONS
A unique aspect of the Zagreb earthquake is that it occurred in a nation's capital amidst the COVID-19 lockdown providing a specific learning opportunity in terms of multi-hazard risk assessment and emergency management discussions. As the global pandemic continues to affect our daily lives, we will continue to monitor the developing public health situation and tailor the conference format in order to ensure safety of all participants while allowing for effective exchange of knowledge and networking. Preservation of health and well being of all participants is our top priority hence all models of participation in 1CroCEE are available: "on site", "on line" and combination of both.